Amy Phan West has been living the American Dream since she arrived to America, at the age of six, in 1987 as a Vietnamese refugee. After witnessing the slaughter of many family members at the hands of the invading Communist regime, she and her immediate family narrowly escaped with their own lives by stowing away in the belly of a fishing boat, adrift at sea, and rescued by an oil tanker. They spent two years in refugee camps in Thailand and the Philippines before being granted asylum. Amy immediately embraced America and its wonderful freedoms with all her heart and is a proud American citizen.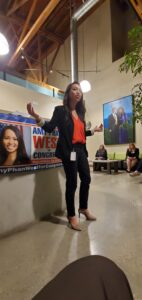 These early life experiences and growing up as an immigrant helped foster Amy's passionate gratitude and love for America as well as provided a keen awareness of the evils of socialism and communism. This nurtured her heartfelt concern for our veterans and homeless.
Amy is a constitutional conservative who supports individual rights and family values. She is ready to tackle the problems of homelessness, immigration, veteran's reform, and education. She supports the First and Second Amendment. Amy also believes in the America First philosophy.
Amy has earned an Associates of Arts Degree in Business, and a Bachelor's of Science Degree in Liberal Studies from California State University of Long Beach. She is married, owns a small business and has three young sons. She has served as Commissioner of Personnel Board for Westminster, Commissioner of OC Parks and is a Delegate for the CAGOP.
For further information about Amy and her campaign, please visit her website at https://amyphanwestforcongress.com/.